Donate
Please donate to help Wilt Chamberlain Memorial Fund Scholarship awardees not only become successful graduates of local colleges and universities, but trendsetters and leaders for generations to come.
You can help foster our community's next generation of scholars through your generous donations. With your support, the Wilt Chamberlain Memorial Fund can provide additional support to the most vulnerable and at-risk youth of Philadelphia.
Please support these scholars pursuing higher education by making a generous donation today. Together, we can provide financial assistance to the Greater Philadelphia area, thus bringing them one step closer to educational attainment.
OTHER WAYS TO GIVE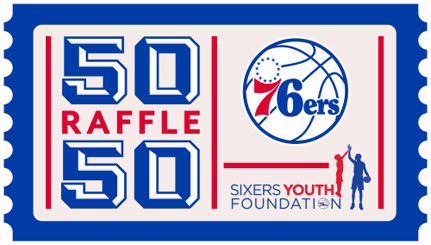 SIXERS YOUTH FOUNDATION 50/50 RAFFLE
The Sixers 50/50 Raffle will be benefitting the Wilt Chamberlain Memorial Fund at select Sixers Home Games! With every ticket purchased, half of the proceeds will go to the Wilt Chamberlain Memorial Fund and the chance to win the other half of the earnings. More information on the exact games and ticket pricing can be found at www.sixers.com/5050
SCHEDULE
Friday, November 3rd vs. Indiana
Tuesday, December 19th vs. Sacramento
Friday, January 5th vs. Detroit
Saturday, February 24th vs. Orlando
HOW TO CLAIM A PRIZE
If you think you have the winning number and didn't claim your prize during the game, please email 5050Raffle@sixers.com or visit www.sixers.com/5050.
View the Sixers Youth Foundation 50/50 Raffle Official Rules here.